Welcome to Waikiki, the Playground of the Pacific
August 4, 2020
Waikiki, the 2.5 miles of beachfront neighborhood on Oahu's south shore, is one of the most famous destinations in the world. By day, thousands of beachgoers, surfers and shoppers line the streets, and by night, high-rises and resort hotels light up the skyline. This stretch of white sand beach is a popular hot spot for tourists and residents alike, boasting long rolling wave breaks—ideal for beginning surfers and long boarders.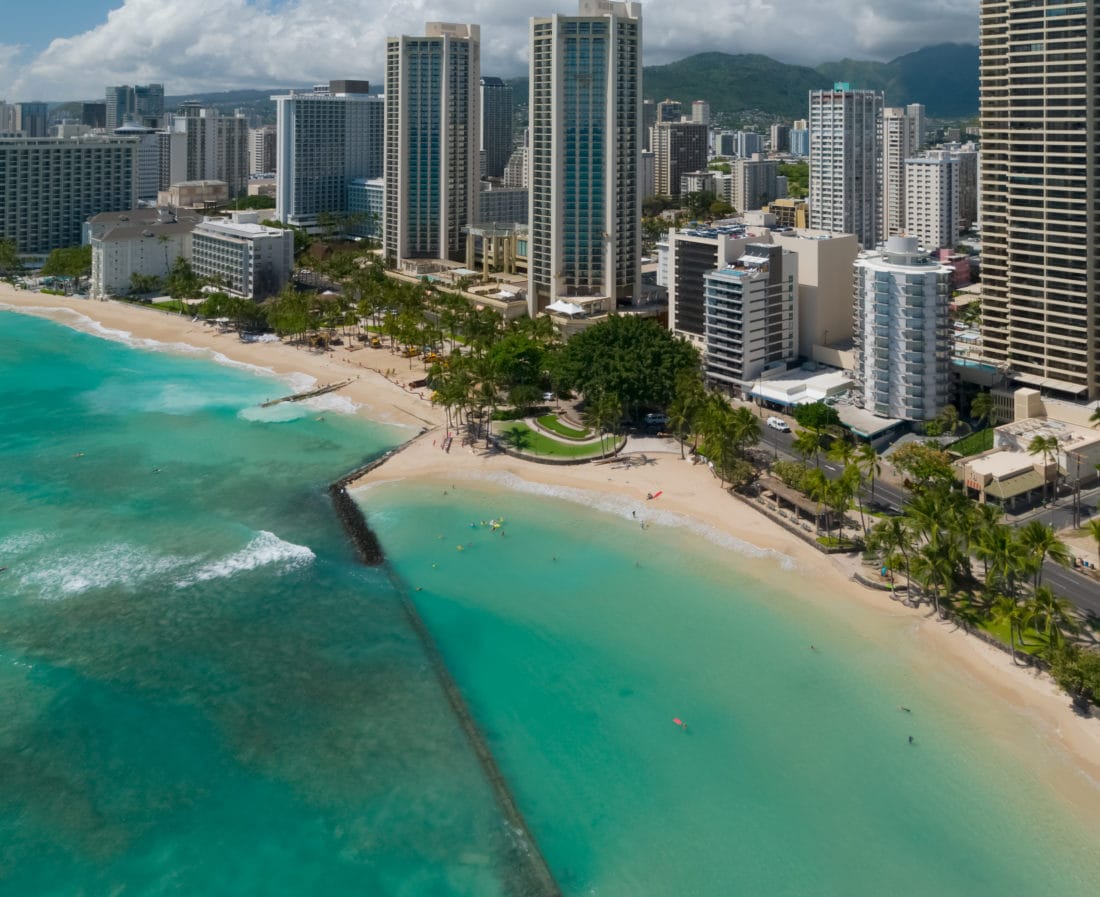 In the 1800s, the area was once a vacation retreat for Hawaiian royalty to enjoy surfing. Legendary Hawaiian waterman Duke Kahanamoku is credited for spreading the gospel of surfing to the mainland and beyond. His statue stands with open arms on Kuhio Beach (not far from ESPACIO). Waikiki's tourism business quickly expanded. By 1901 the first luxury-trade hotel opened its doors and the rest is history. Today, Waikiki's crystal blue waters with the slopes of Diamond Head Crater in the background are some of the most iconic images of Hawaii.
Still, Waikiki is more than just a beautiful stretch of beach, the renowned neighborhood is filled with some of Hawaii's finest restaurants and world-class shopping. Everything from souvenirs to surf gear, accessories to art, fashion and food courts can be found at retail meccas like International Marketplace, Luxury Row, Royal Hawaiian Center and Waikiki Beach Walk. Not to mention, there's a variety of locally owned boutiques housing items exclusive to Hawaii.
One of the most enticing aspects of Waikiki is that everything is within a 1.5 square-mile radius and just a few blocks to the ocean. In fact, ESPACIO is located on the main thoroughfare, Kalakaua Avenue, which is home to sought-after luxury boutiques, award-winning hotels and a diverse mix of culinary offerings. On Kuhio Avenue, you'll find a variety of smaller, family-owned stores, cafes, as well as numerous restaurants and nightclubs. Whether you're heading to the beach for a surf or sunset session, looking for a taste of Hawaii's unique regional cuisine or searching for that special something to wear during your vacation, it's here in Waikiki. The endless opportunity for exploration within a walkable distance is why Waikiki is dubbed The Playground of the Pacific.
We invite you to explore our neighborhood.
Back to blog